https://donationstore.net

Donation Store is a self hosted webstore and helpdesk for Minecraft servers. It allows you to accept payments for packages you create, where they will be automatically handled and awarded to players in game.

If you have a question or you just want to have a chat about Donation Store, we hang out mostly on Discord! Click the link above to be invited into our channel!
GET A FULLY FEATURED, HOSTED, 7 DAY TRIAL
https://donationstore.net/demo
NEW V2.4 UPDATE
https://donationstore.net/blog/2-4-released
LIMITED TIME V2.4 COUPON FOR 20% OFF: TWODOTFOUR

NEW V2.4 FEATURES:
Upgraded to Python 3.8 and Django 3.0.6
Re-implemented Stripe to be inline with SCA
Fixed refund handling on Stripe
Added chargeback evidence auto generation (PDF) for Disputes on Stripe and Chargebacks on PayPal
Made Stripe evidence be automatically submittable to Stripe from the Control Panel
Added Velocity Support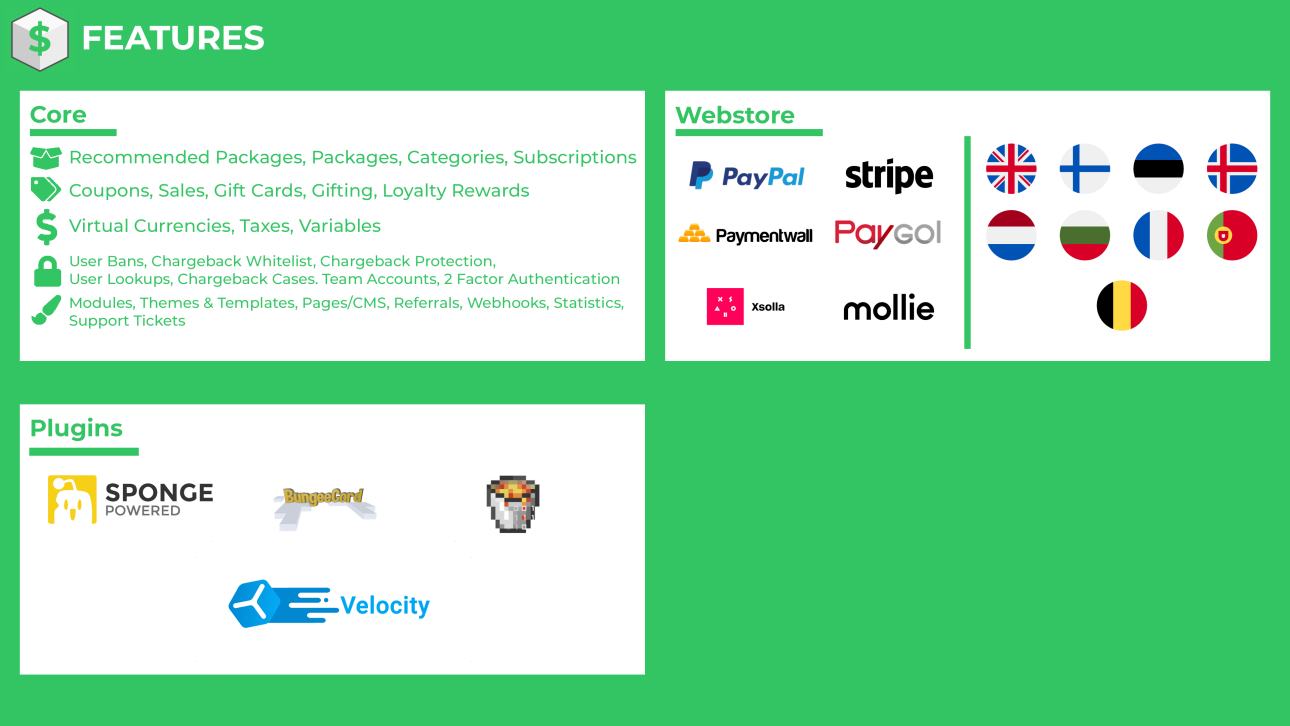 We believe there are 6 main reasons why we stand out from some other providers.
No Monthly Fees - While there will be a subscription option available in the future, you will always have the opportunity pay once and that's it. You don't have to worry about having to hand over a monthly fee, or even worse, hand over x amount of your server's monthly earnings.
Customisable - When you install Donation Store, you have the code. It resides on your server. You can customise it to how you like. You don't just have access to the HTML files. Think you want to add a feature that no one else provides or no other server has? You can hook into the main app and do so!
Enterprise Features - Donation Store offers Enterprise level features like Chargeback handling, gift cards, referrals etc. all at the same price. When you purchase Donation Store, nothing is blocked, all features are unlocked and useable! There are no "Upgrade to the X Plan to Use X"
Integration with your Current Site - Have a current site and have a custom stylesheet that makes your brand pop? No problem! Use the exact stylesheet and the same HTML tags and components that make up your site. There is no longer a big difference when you move from your site to your webstore. You have the entire HTML source code, change it however you want! Hate the way that there is a noticeable jump when you go to your webstore, whether that be in the form of extra loading or the page not looking the same as your site? Don't worry, this isn't an issue!
Quick - It's only you running the install of Donation Store when you install it. You aren't sharing your installation with other users so it is lightning quick! Has your server's webstore increased massively? Are other providers still holding it's performance back? You control your server, you control the resources, scale as much as you want!
Always Updating - We are always taking user feedback into consideration and we are implementing it where possible! We always want to continuously release updates that you will love. So far, since we released on February 1st, due to customer feedback, we have implemented Mollie, started support for Sponge and Bungeecord, Open Sourced our plugin, restructured our pricing, created new GDPR features, added Chargeback report handling in the Control Panel, added sub domain support built into the app, rather than using Nginx configs and more. We will always consider a users feature request no matter how small their network is!

To make the migration to Donation Store as easy as possible. You can import you payments from a CSV file into Donation Store. If you create matching packages on Donation Store, you can even use their IDs in your payments CSV file. Then, Donation Store will do all the wiring up to reflect that in the payments.

We take pride in our customers! Here are just some of the customers that have used Donation Store as their payment platform of choice for their Minecraft server networks:
https://store.trollandia.it
https://store.pixelballers.com
https://store.ryderg.net
https://store.mineunited.net
https://store.berrymc.com
https://store.jac.network
+ 30 more and growing!
Vouches/Referrals
adamawesome135 said:
↑
Hella vouch was waiting for this for nearly a year really recommend using it!
SteveTheKing said:
↑
This is absolutely fantastic, great guy and great product! Highly recommend.
RyderForNow said:
↑
Amazing! The Developer is extremely active & helpful and there are almost no other self-hosted stores, not to mention comparable ones. 10/10 from me.
malachiel said:
↑
I tested with him for a lot of month before the release, i was happy to see his product become better and better and the dev become alway more confident with the time, and the money spent for this are one are well spent, because it allow to host yourself with your data, all the stuff without paying anything anymore, you can also import payments from other store with linked product by using cvs file, also the product is really solid, secure and stable and becoming in each release more user-friendly

, the dev is a great man and super user friendly that i never see in all my life, he alway trying to make their customer happy and alway listen suggestion. keep the good job man!
ZoneTriplu said:
↑
Great work, im enjoying it a lot! The CEO is very friendly and the product is just incredible!
Ryder Gaming said:
↑
Another vouch for Mark. The service is as good as it can get.
rexmen123 said:
↑
It's very good for self-hosted donation store for all the features which can cost from $10 to $50 per month, Great themes support and the author is active and helpful with every step of installation and any issues I reported.

Value for money.

Bukkit
Bungeecord
Velocity
Sponge

If you have any questions please do not hesitate to leave them below or contact me personally. If you'd like to schedule a demo where I can walk you through the entire application, please email me at
mark@donationstore.net
Be sure to follow us on Twitter @donationstoremc for smaller updates, but as mentioned above, most of our updates come through Discord. You can also follow us on our Discord:
https://discord.gg/vsgeqp
Thanks,
Mark